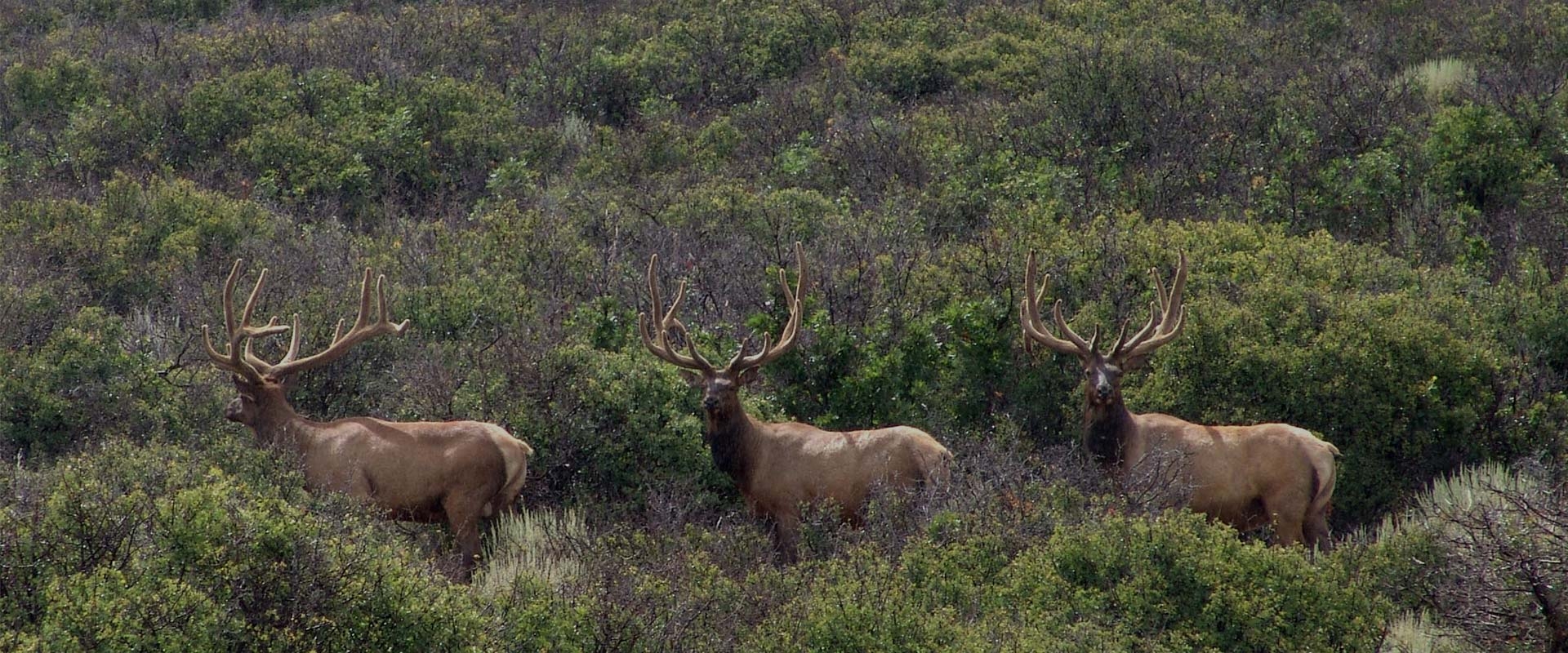 Colorado Trophy Elk Hunts
Located along the North Rim of the Black Canyon in western Colorado, North Rim Trophy Hunts is a privately owned elk ranch consisting of aspen, oak brush, and open parks. spring feed ponds in an elevation range from 7000ft. to over 9000ft. Our hunts continue to produce some of the largest trophy elk in the state, year after year. With parties of one or two guided by professional guides, we offer a superior, quality hunting experience. This includes meals and lodging with private bedrooms. We also provide game and trophy handling as well as all transportation from the hunting area to the lodge. Game meat is processed and shipped at the client's expense and arrangements.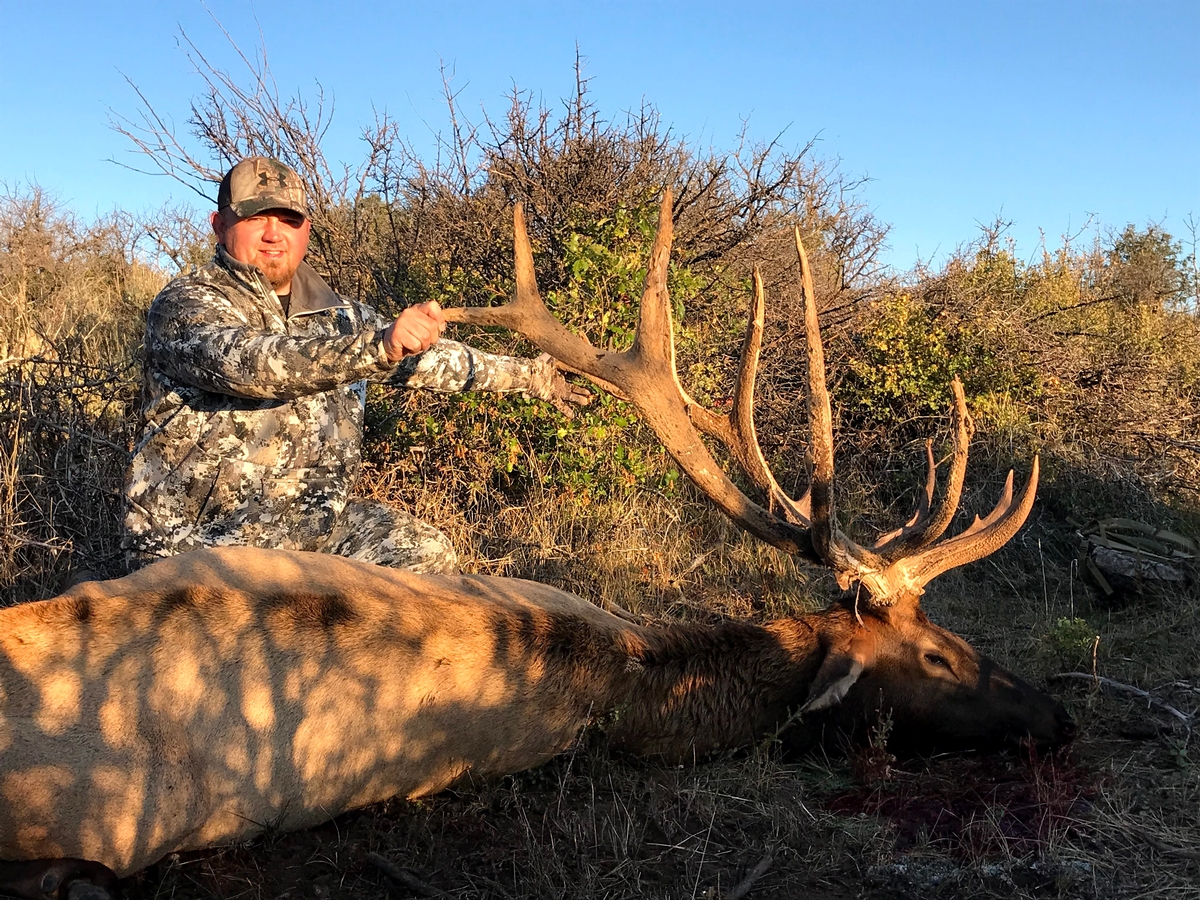 Our Elk Hunt Guarantee
This is Our Hunt Guarantee
When you hunt with North Rim Trophy Hunts we guarantee you will get an opportunity to harvest a trophy bull or you will not pay the hunting charges. There are no trophy fees on our elk hunts.
You can pass up or shoot any elk you see on your hunt, although a passed shot is considered an opportunity.
How are we different than other high fence hunting ranches
The primary difference is that when you hunt with us, there are no additional charges or no trophy fees if you shoot a monster elk. You pay the same hunt fee whether you shoot a 300 or 400 class elk.
The fact that you can shoot any elk you see is one of the big differences in our trophy hunt. There is no sliding scale. everybody pays the same in September $11,900 if it scores 350 or 400 in October $7,900 if it scores 300 or 340.
This is a spot and stalk hunt on 4,000 acres of rugged terrain with over 10 miles of fence. It's as close as you can get to a fair chase hunt on a high fence property.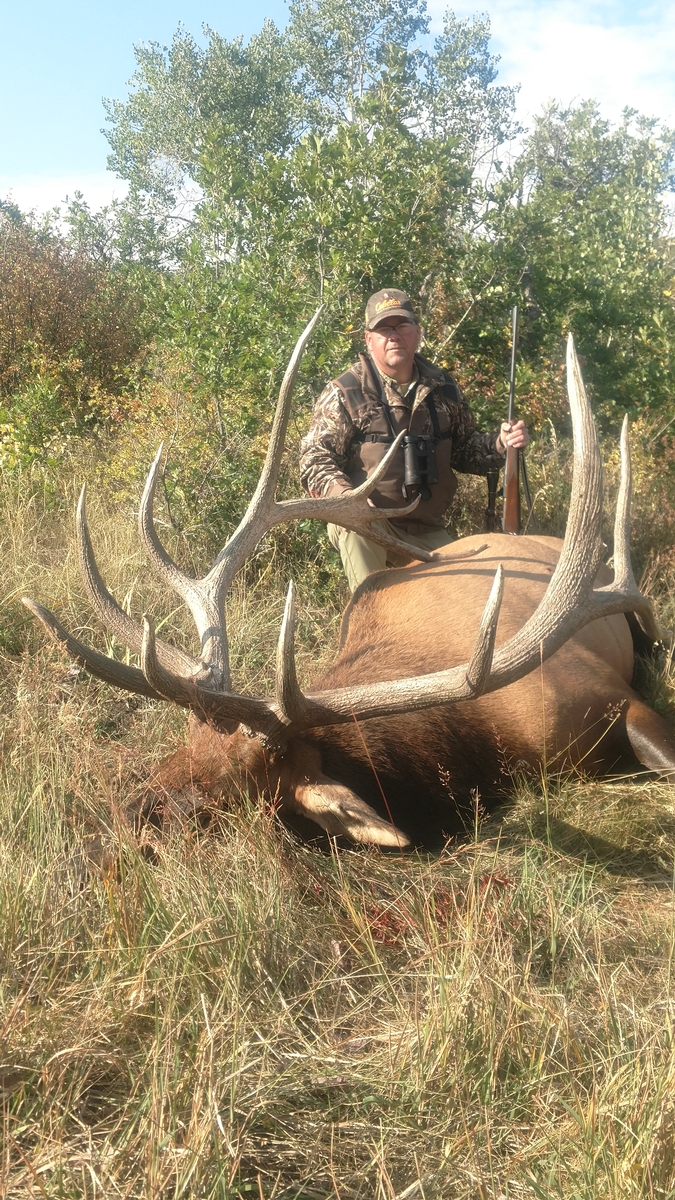 All Inclusive Elk Hunting Packages
We offer 2 different elk hunting options
Trophy Elk Hunts August - September - $11,900
During the September hunts we are shooting bulls in the 350 to 400's sci. score 370 average
Trophy Elk Hunts October - November - $7900
Later in the season (October) the trophy hunts are $7,900, $2,500 deposit $5,400 hunt fee
Both Packages Include
One on one guided
100% opportunities,100% Harvest the last several years
Lodging, Meals, Game handling
4000 acres, native terrain 8000 to 9500 ft. altitude
You pay for a license, $500, and processing of the meat $300 to $600 depending on what you have done. There are no hidden fees.
100% shot opportunity the past 5 years and we take a max of 6 hunters per hunt.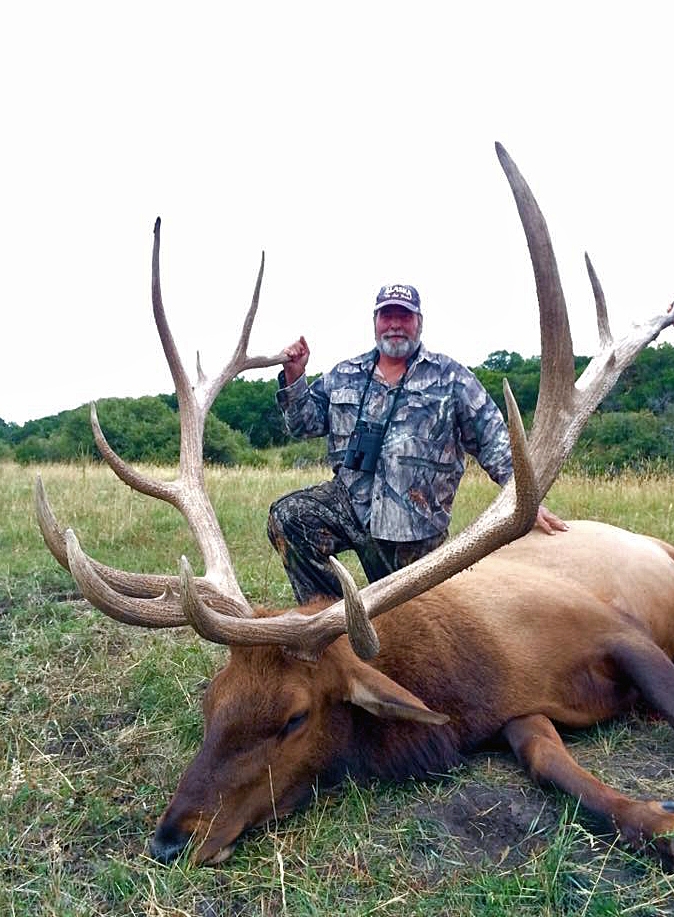 Unmatched Colorado Trophy Elk Hunts
With exclusive rights to some of the most coveted private lands in the state, North Rim Trophy Hunts has been conducting professional trophy hunts for over 25 years, and our hunts have produced some of the largest trophy elk and mule deer in all of Colorado; all of this coupled with our unmatched commitment and dedication to each and every client makes us the obvious choice for the serious hunter, so give us a call before you think to look anywhere else.
North Rim Guarantees you a shot at a 6×6 bull elk of your choice or any bull you see on your hunt, the hunt is with choice of weapon (Rifle Archery or Muzzleloader). Professional Taxidermy is Available. Starting our hunts in late August through November, we offer you the chance to hunt trophy elk in the bugling season with a Rifle or Bow. The Trophy Elk Ranch is over 4000 acres with several miles of high fence, this ensures quality management and gives you the chance to harvest the trophy elk of a lifetime. Give us a call today to plan the hunt you'll never forget.
Trophy Elk over 350 Gallery